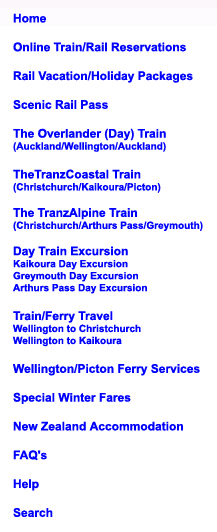 Train travel in New Zealand is simply magic.

Each of the three scenic rail journeys are unique, with views from The Overlander train showing you diverse countryside of the North Island; towering viaducts, spectacular gorges, hidden valleys, to the rugged coastline of the South Island, seen from the TranzCoastal train to the mountain scenery from the TranzAlpine train.

Sit back, relax and enjoy some of the finest scenery in the world.

Travel is in air conditioned, centrally heated carpeted carriages with comfortable 'Airline' style reclining seats with head rests, panoramic windows and a team of friendly staff to provide assistance.

Some trains have special viewing carriages and some have paired seating around tables which is great for families, groups or for meeting new friends.

Your train crew will point out scenic highlights and provide a little historical and cultural background on the places you travel through.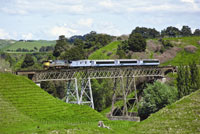 All trains have a Buffet Carriage where there is a selection of snacks, meals and drinks can be purchased on board. All Tranz Scenic trains are licensed to sell alcohol.

All Tranz Scenic rail services are 'one class' service and are are non-smoking under New Zealand law.

With the range of rail vacation/holiday 'Mix N Match' travel options, you can create your own vacation/holiday by using 'Point to Point' rail and/or rail/ferry travel options with travel and accommodation packages that range from 2 Days/3 nights.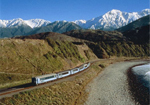 Alternatively, with a Scenic Rail Pass you have unlimited travel on all of Tranz Scenic's long distance passenger trains plus up two Interislander ferry crossings between the North and South Islands of New Zealand.

You can check online - fare, timetable information, seat availability and make 'Instant Confirmation' reservations for all Tranz Scenic rail/train destinations by using the 'Click Book Go' online reservation system. Online fare, seat availability and reservations for all train services is available to 30 September 2008.

So come and join a Tranz Scenic train journey and experience New Zealand's unique beauty by rail.